Finally I have some time to update my little online journal. I've been quite busy during the past month, more work & less fun :)) Anyway, by looking at the calendar and reading the oddly straightforward title of this post, you must have guessed what this post is going to be about. Yes, you've guessed it! (I hope :))) My friend Celine and I have come up with thousands upon thousands of costume ideas (okay, that's a tad hyperbolic), and we even settled on a 70s sparkly disco girls... But I've only come back to Vienna today and we could not go costume-hunting. So tomorrow I shall have to force myself to get up extra early and do a costume shop super-scrutiny. I'll let everyone know how that goes :)) I thought I'd try inspiring myself, and hopefully some of you as well, by making a short compilation of original (or reasonably stereotypical) Halloween costumes...
Fallen Angel - Being the narcissist I most certainly am I feel an urge to put myself first on this list :)) This is what I wore last year, and I do admit I really liked the costume. I wish I had a close-up of those swirls I painted on my face, I didn't even want to wash my face :)) The sad truth is, that my friend Flo and I took about 4 hours to get ready (including pointless chatting though, which must have been about 3 hours :)))
I wore falsies - which i was absolutely incapable of gluing on, so they ended up falling off. How sexy is that? - and fake black nails with little skulls on them - which also ended up falling off, I even lost one during a wild taxi ride :D As in for my wings, they're still alive, but missing a few feathers.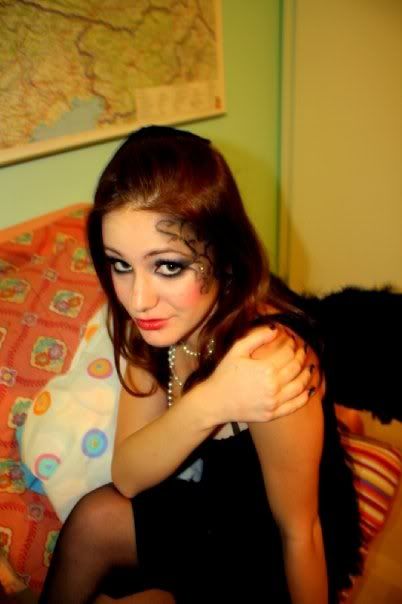 ...but! I have browsed the internet for countless hours, trying to help my creativity by looking at what other people wore for Halloween... And you know what? I have only found one website, which has really inspiring pictures on it!

The rest? Well, I thought to myself "Maybe there will be some nice costumes on sites of online shops which actually sell the costumes." But you know what? They only have what I call sex costumes. Really. The same old porn-themed boring (revealing though :)) stuff. Secretary, cop, teacher, nurse, witch, french maid,... Pretty much anything you could think of, but with a slutty twist. I dunno, is it necessary? Maybe Halloween is really the only time of the year when "girls can dress like sluts" as Cady well pointed out in Mean Girls. And the truth is, it can be fun dressing up to look sexy... Well, I still find it more fun to be creative rather than revealing, but if both can be managed at the same time... why not make the boys happy :)) So if I don't manage to buy anything cool, what do I know? I might end up throwing on a pair of fishnets and a super-short dress and calling it a costume. So let's have a look at our typical Halloween costumes gone wild :))
...etc. etc., look up the rest yourself :)) Do you think life would be more fun if nurses and teachers and secretaries blah blah actually dressed like this in everyday life? That was one thought that ocurred to me while I was browsing through the pics. In any case, I suppose rape rate would double. Or triple.
If you decide someday to stop this little game that you are playin',
I'm gonna tell you all what my heart's been a-dyin' to be sayin'.
Just like a ghost, you've been a-hauntin' my dreams,
So I'll propose... on Halloween.
Baby, love is kinda crazy with a spooky little girl like you.
(Classics IV)
I'll leave it here, I wish y'all a great Halloween night out!!!